OHA Hockey Team Programs
OHL Hockey Team Programs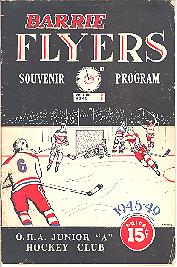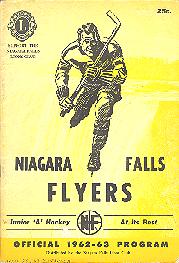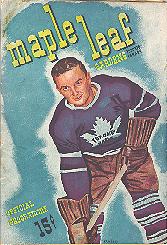 We sell back issues of OHA and OHL hockey team programs - Kitchener Rangers, London Knights,
Niagara Falls Flyers, Niagara Falls Thunder, Ottawa 67`s, Owen Sound Mercurys, Peterborough Petes,
Sault Ste Marie Greyhounds, Stratford Kroehlers, St Michael`s College, Toronto Marlboros hockey programs.
Prices subject to change without notice according to market conditions.
Postage & Handling is extra. Canadian residents add applicable GST/HST.
Prices are listed in Canadian funds - please inquire as to the current exchange for prices in US funds.
KITCHENER RANGERS OHA HOCKEY PROGRAMS

Scan Code
Mag Issue
Cover
Contents
Condition
Price per magazine
Pub 5082
March 8, 1970
St. Catharines Black Hawks
vs
Kitchener Rangers
OHA Program


Player Photos + Drawing of Memorial Auditorium
St. Catharines Black Hawks Line-up:
Mike Bloom, Glen Crichton, Gary Cunningham, Marcel Dionne, Bill Ellis, Pierre Guite, Jim Hoculik, George Hulme, Tim Jacobs, Don McCullough, Al McDonough, Brian McKenzie, Fran McKey, Bob McMahon, Jim Pearson, Doug Rombough, Paul Shakes, Clyde Simon, Jim Steele, Brian Thorne, Ron Woodhouse, Duane Wylie, Pete Zaroda

Kitchener Rangers Line-up:
Chris Ahrens, Bill Barber, Dennis Bolton, Jerry Byers, Al Calver, Tom Cassidy, Dave Cressman, Ralph Hopiavouri, Bob Hurlburt, Juri Kudrosov, Henry Lehvonen, Jim Martz, Jim Nahrgang, Cam Newton, Joe Noris, Gerry O`Flaherty, Ted Scharf, Glen Seperich, Glen Siddal
GD-VG, 1/2" cover tear
$15.00 Cdn

LONDON KNIGHTS OHA HOCKEY PROGRAMS

Scan Code
Mag Issue
Cover
Contents
Condition
Price per magazine
Pub 5083
1970-71
London Knights
vs
Niagara Fall Flyers
OHA Program


Player Drawing + The Gardens
Toronto Marlboros Line-up:
Mike Amodeo, Al Avery, Bob Dailey, Steve Durbano, Dave Gardner, Glenn Goldup, Bill Harris, John Harris, Bruce Herridge, Gavin Kirk, Greg McGuire, Chris Meloff, Sean Shanahan, Charlie Shaw, Dean Sheremeta, Steve Shutt, Mike Ralph, Pat Timms, Steve Vickers

London Knights Line-up:
Steve Addley, Jay Babcock, Mike Ballanger, Gord Barratt, Chuck Blair, Dick Decloe, Ron Fogal, Don Jones, Jack Kell, Larry Kellett, Ted Lennssen, Mike McIntyre, Dave McLaren, Gary Nichol, John Raynak, Ken Rzepecki, Reg Thomas, Terry West, Colin Wood, Bob Wright
FR
$15.00 Cdn

NIAGARA FALLS FLYERS OHA HOCKEY PROGRAMS

Scan Code
Mag Issue
Cover
Contents
Condition
Price per magazine
Pub 5084
April 10, 1963 - printed on line-up page + cover
Toronto Neil McNeil Maroons
vs
Niagara Fall Flyers
OHA Program


Player Drawing
Toronto Neil McNeil Maroons Line-up:
Jim Cassidy, Andre Champagne, Paul Conlin, Mike Corbett, Gary Dineen, Mike Doran, Ray Dupont, Bill Henderson, Dave Kelly, Jim Keon, Bill MacMillan, Jim McKendry, Jim McKenny, Jerry Meehan, Steve Monteith, Wayne Mosdell, Rod Seiling, Gary Smith, Mike Walton

Niagara Fall Flyers Line-up:
John Arbour, Dave Armstrong, Don Awrey, Fern Belanger, Rick Bradford, Terry Crisp, Gary Dornhoefer, George Gardner, Bill Glashan, Bill Goldsworthy, Gary Harmer, Ron Hergott, Wayne Maxner, Dick Morin, Ron Schock, Ted Snell, Dave Woodley
GD, small coffee stain on cover
$15.00 Cdn
Pub 5086
1969-70
London Knights
vs
Niagara Fall Flyers
OHA Program


Jim Nickleson
London Knights Line-up:
Daniel Bouchard, Pat Boutette, Gerry Bradberry, Gord Brooks, Mike Craig, Ron Fogal, Gary Geldart, Dave Gilmour, Terry Holbrook, Jack Kell, Ted Lennssen, Dan Maloney, Dave McLaren, Mike Quinn, Darryl Sittler, Al Young

Niagara Fall Flyers Line-up:
Bob Boyd, Brian Curtis, Russ Friesen, Mike Healey, Owen Jelly, Mike Keeler, Paul Kett, Wayne King, Jay Mason, Don McLean, Brent Meeke, Larry Sacharuk, Fred Smith, Bill Stinson, Dave Tataryn, Larry Thompson, Fred Thwaites
FR, creased cover
$15.00 Cdn
Pub 5087
1971-72
Hamilton Red Wings
vs
Niagara Fall Flyers
OHA Program


Drawing
Hamilton Red Wings Line-up:
George Beveridge, Cam Botting, Bill Burke, Glen Cickello, Doug Counter, Bruce Fitzgerald, Martin Gateman, Ed Gilbert, John Heffern, Pat Hickey, Jim Koleff, Ted Long, Jim Moxey, Dave Murphy, Bob Neely, Rick Plumb, Terry Ryan, Ron Sedelbauer, Dave Syrvet, Mike Veisor, Willie Wing

Niagara Fall Flyers Line-up:
Rick Borne, Wayne Chrysler, Tom Colley, Greg Cook, Dave Cooling, Terry Fyck, Larry Gould, Stan Gross, Gary Holt, Don Lever, Brent Meeke, Jim Schoenfeld, Steve Stone, Morris Titanic, Eric Vail, Tom Young
GD-VG, paper residue on back cover
$15.00 Cdn

NIAGARA FALLS THUNDER OHA HOCKEY PROGRAMS

Scan Code
Mag Issue
Cover
Contents
Condition
Price per magazine
Pub 5241
Vol. 11, No. 5, 1988-89
Canadian Hockey Magazine

1988-89
Windsor Compuware Spitfires
vs
Niagara Fall Thunder
OHA Program


Brian Fogerty w/inset Brian Kilrea / Mike Ricci
Stories: 87-88 OHL Season in Review, 88-89 Stars of the OHL, Adjusting To Life In the OHL, CHL Annual Awards, Drama of the OHL Draft, Brian Fogerty Interview, Rick Gay, Key Performers For OHL Playoffs, Brian Kilrea, Medicine Hat Tigers Memorial Cup Repeat, NHL Takes Best of the OHL, OHL Playoff Preview, QMJHL/OHL Challenge, Joe Sakic - CHL Player of the Year, Top NHL Draft Prospects From The OHL, Time For A New OHL Record Book, World Jr. Hockey Championship

Windsor Compuware Spitfires Line-up:
Chad Badawey, Sean Burns, Peter DeBoer, Kevin Falesy, Brian Forestell, Trent Gleason, John Johnson, Bob Leeming, Peter Liptrott, Chris Lukey, Kevin McDougall, Ted Miskolczi, Sean O`Hagan, Tom Purcell, Jim Revenberg, Darrin Shannon, Jason Simon, Jason Stos, Karl Taylor, K.J. White, Mike Wolak, Jason York

Niagara Fall Thunder Line-up:
Greg Allen, Dave Carrie, Stan Drulia, Bryan Fogarty, Rob Fournier, Alan LaForge, Paul Laus, Mark Lawrence, Jamie Leach, Steve Locke, Brad May, Shawn McCosh, Colin Miller, Brian Mueggler, Keith Osborne, Don Pancoe, Scott Pearson, Keith Primeau, Mike Rosati, Adrian Van Der Sloot, Dennis Vial, Paul Wolanski
VG
$7.00 Cdn

OTTAWA 67`s OHA HOCKEY PROGRAMS

Scan Code
Mag Issue
Cover
Contents
Condition
Price per magazine
Pub 5088
1971-72
Niagara Fall Flyers
vs
Ottawa 67`s
OHA Program


Action Drawing
Niagara Fall Flyers Line-up:
Rick Borne, Wayne Chrysler, Tom Colley, Greg Cook, Dave Cooling, Terry Fyck, Larry Gould, Stan Gross, Gary Holt, Randy Holt, Don Lever, Don McLean, Brent Meeke, Norm Metcalfe, Wilf Paiement, Jim Schoenfeld, Steve Stone, Morris Titanic, Eric Vail, Tom Young

Ottawa 67`s Line-up:
Ray Anttila, Rick Ball, Brian Barker, Ron Bobbette, Dave Capstick, Peter Clement, Jim Cowell, Mike Cushman, Blake Dunlop, Marty Gannon, Peter Gaw, Tony Herlick, Bunny Larocque, David Lee, Peter Lee, Norm Martel, Norm McLeod, Bryan McSheffrey, Wayne Merrick, Denis Potvin, Dan St. Cyr, Paul Sheard, Derek Smith
GD-VG, line-up scored
$15.00 Cdn
Pub 5089
1972-73
St. Catharines Black Hawks
vs
Ottawa 67`s
OHA Program


Action Drawing
St. Catharines Black Hawks Line-up:
Rick Adduono, Dan Blair, Ken Breitenback, Wayne Chrysler, Brian Cousineau, Greg Craig, Larry Finck, Dave Gorman, Rick Hampton, Jeff Jacques, Larry Jacques, Gary Lariviere, Bob MacGuigan, Bill McCreary, Wilf Paiement, Jim Pettie, Dave Salvian, Gord Titcomb

Ottawa 67`s Line-up:
Ray Anttila, Barry Ashby, Bruce Baker, Jim Cowell, Blake Dunlop, Erin Fostey, Bill Harper, Peter Huntley, Peter Lee, Jamie Masters, Gary McAdam, Brian McCullough, Tom McDonell, Glen McLeod, Bogden Podwysocki, Denis Potvin, Dale Ross, Paul Sheard, Derek Smith, Ian Turnbull
GD-VG
$15.00 Cdn
Pub 5090
Feb. 5, 1987
Toronto Marlboros
vs
Ottawa 67`s
OHA Program


Jeff Ballantyne / Andrew Cassels / Kent Hawley
Toronto Marlboros Line-up:
Bill Armstrong, John Blessman, Sean Boland, Rob Cimetta, Brian Collinson, Shawn Costello, Chris Cygan, Sean Davidson, Mike Flanagan, Chris Govedaris, Marks Gowans, Piero Greco, Mike Jackson, Craig Kitteringham, Glen Lowes, John Nelson, Michael Reier, Danny Resko, Greg Suchan, Pat Tenpenny, Jeff Turcotte, Jason Winch

Ottawa 67`s Line-up:
Mike Arthur, Troy Binnie, Rob Bolden, Andrew Cassels, Steve Chelios, Peter Choma, Scott Cumming, Jeff Deavy, Frank DiMuzio, George Dourian, Ransome Drcar, John East, Dave Gibbons, Mike Griffith, Kent Hawley, Pat Howie, Rick Lessard, Vern Ray, Dave Rowbotham, Joey St. Aubin, Matt Smyth
VG+
$6.00 Cdn

OWEN SOUND MERCURYS OHA HOCKEY PROGRAMS

Scan Code
Mag Issue
Cover
Contents
Condition
Price per magazine
Pub 5091
Jan. 17, 1948
Kitchener-Waterloo Dutchmen
vs
Owen Sound Mercurys
OHA Program


Action Photo Collage
Kitchener-Waterloo Dutchmen Line-up:
Bob Bauer, Don Bauer, Ray Bauer, Clarence "Dick" Behling, John Blute, Ted Grasser, Aug Herchenratter, Dixon, W. Hiller, Art Hurst, Jim Olinski, Roubell, Doug Verity, Weiler, Keith Woodall, Zuke

Owen Sound Mercurys Line-up:
Boddy, Burlington, Fife, Gillespie, Gilson, Hayward, Hillson, Ingolsby, Mason, McReavy, Miller, Pollock, Shears, Small, Smith, Sullivan, White
FR, folded
$25.00 Cdn

PETERBOROUGH PETES OHA HOCKEY PROGRAMS

Scan Code
Mag Issue
Cover
Contents
Condition
Price per magazine
Pub 5092
Nov. 5, 1970
London Knights
vs
Peterborough Petes
OHA Program


Action Drawing
London Knights Line-up:
Jay Babcock, Mike Ballanger, Gord Barratt, Dick Decloe, Wayne Elder, Dave Hutchison, Don Jones, Jack Kell, Larry Kellett, Ted Lennssen, Mike McIntyre, Dave McLaren, Paul Nicholson, John Raynak, Ken Rzepecki, Reg Thomas, Dennis Ververgaert, Terry West, Colin Wood, Bob Wright

Peterborough Petes Line-up:
Bruce Abbey, Colin Campbell, Rick Cunningham, Paul Elford, Skip Foster, John Garrett, Doug Gibson, Danny Gloor, Jim Mahon, Paul Perras, Rick Plumb, Craig Ramsay, Ken Richardson, John Rutherford, Tom Thomson, Stu Towers, Joe Watters
GD-VG
$15.00 Cdn

STRATFORD KROEHLERS OHA HOCKEY PROGRAMS

Scan Code
Mag Issue
Cover
Contents
Condition
Price per magazine
Pub 5094
1946-47
Toronto St. Michaels
vs
Stratford Kroehlers
OHA Program


Team Name
Toronto St. Michaels Line-up:
Les Costello, Bill Ford, Ray Hannigan, Ed Harrison, Howard Harvey, Bob Heathcott, Len Kelly, Flem Mackell, John McLellan, Rudy Migay, Bob Paul, Ray Oleksiuk, Harry Psutka, Ed Sanford, Joe Williams, Warren Winslow, Benedict Woit

Stratford Kroehlers Line-up:
Sandy Air, Wilf Arnold, Don Barrett, Sam Casonto, Dincan Daniels, Billy Flick, Arnold Kullman, Carl McCauley, Matt Mesich, Nick Mickoski, Billy Mitchell, Pete Riggin, George Robertson, Lyle Roth, Wayne Service, Joe Turner, Len Wharton, Jim White
FR, folded
$20.00 Cdn

ST. MICHAEL`S COLLEGE MAJORS OHA HOCKEY PROGRAMS

Scan Code
Mag Issue
Cover
Contents
Condition
Price per magazine
Pub 5098
March 1, 1947
Oshawa Generals
vs
St. Michael`s College Majors
OHA Program


Bob Goldham
Oshawa Generals Line-up:
Don Bauer, Chuck Blair, Whitey Cameron, Ray Ceresino, Crowdis, Leo Curik, Bill Dunn, Dick Gamble, Ike Hildebrand, Ross Lowe, McKay, McPherson, John Milliard, Eric Pogue, Reddoch, Phil Samis, George Scholes

St. Michaels College Majors Line-up:
Les Costello, Ray Hannigan, Ed Harrison, Howie Harvey, Len Kelly, Flem Mackell, John McLellan, Rudy Migay, Bob Paul, Harry Psutka, Ed Sandford, Williams, Warren Winslow
VG
$30.00 Cdn

ST. MICHAEL`S COLLEGE MAJORS PLAYOFF OHA HOCKEY PROGRAMS

Scan Code
Mag Issue
Cover
Contents
Condition
Price per magazine
Pub 5096
March 20, 1946
Oshawa Generals
vs
St. Michael`s College Majors
OHA Playoff Program


Gus Bodnar
Oshawa Generals Line-up:
Aitken, Arundel, Bathe, Don Bauer, Chuck Blair, Crowdis, Leo Curik, Currie, Gray, Ike Hildebrand, Ross Lowe, Marshall, Eric Pogue, Reddoch, Phil Samis, Thaler

St. Michaels College Majors Line-up:
Blute, Patrick Boehmer, Les Costello, Joe DeCourcy, Ray Hannigan, Ed Harrison, Len Kelly, Flem Mackell, McKay, McLean, Muretich, Bob Paul, Powers, Ed Sandford, Sloan, Warren Winslow
GD-VG
$30.00 Cdn

TORONTO MARLBOROS OHA HOCKEY PROGRAMS

Scan Code
Mag Issue
Cover
Contents
Condition
Price per magazine
Pub 5097
Dec. 8, 1937
St. Michaels College Majors
vs
Toronto Marlboros
OHA Program


Player Drawing
St. Michaels College Majors Line-up:
J. Callaghan, Inglis, Jacques, Mahoney, G. McNamara, P. McNamara, C. Morrison, N. Morrison, Mulrooney, Regan, Roach, Schnur, Sheedy, Sills, Slotwinski, Smith, Somers, West

Toronto Marlboros Line-up:
Anderson, Dalzelle, Drummond, Hank Goldup, Harris, Hunt, Laurent, Love, Milne, Morris, Mortimer, O`Flaherty, Rennie, Ritchie, Smart
PR-FR, 1' x 1 1/2' cover piece missing
$20.00 Cdn
Pub 5095
Dec. 20, 1972
Moscow Selects
vs
Toronto Marlboros
OHA Program


George Armstrong / Paulin Bordeleau / Bob Dailey / Glenn Goldup
Moscow Selects Line-up:
Vladimir Astafyev, Valery Belousov, Vladimir Devyatov, Alexander Filippov, Sergey Kapustin, Eugeny Kazachkin, Alexander Kolikov, Viktor Krivolapov, Alecander Lobanov, Alexander Matynyuk, Alexey Nikitushkin, Vladimir Popov, Viktor Shalimov, Yury Shatilov, Nikolay Shorin, Vyacheslav Solodukhin, Yury Terekhin, Michel Titov, Alex Volchenkov, Viktor Zinger

Toronto Marlboros Line-up:
Paulin Bordeleau, Bruce Boudreau, Bernie Cassidy, Jim Clarke, Bob Dailey, Kevin Devine, Wayne Dillon, Tom Edur, Doug Ferguson, Glenn Goldup, Geoff Green, Mark Howe, Marty Howe, John Hughes, Peter Marrin, Kevin Neville, Mike Palmateer, Reg Thomas, Jim Turkiewicz, Dennis Ververgaert, Brad Winton, Jeff Woodyatt
PR
$10.00 Cdn

TORONTO MARLBOROS OHA PLAY-OFF HOCKEY PROGRAMS

Scan Code
Mag Issue
Cover
Contents
Condition
Price per magazine
Pub 5101
1951
Guelph Biltmores
OR
St. Catherines Teepees

vs

Toronto Marlboros
OHA Play-Off Program


Boxing / Hockey / Wrestling Action Photos
Game 1

Guelph Biltmores Line-up:
Andy Bathgate, Danny Blair, Dickenson, Aldo Guidolin, Chas Henderson, Hicks, Harry Howell, Lou Fontinato, Ken Laufman, Lucyk, Ron Murphy, Dean Prentice, Theberge, Wilson

St. Catherines Teepees Line-up:
Bodnar, Buddy Boone, Wayne Brown, Orrin Gould, Lomar, Charles Marshall, Frank Martin, McCombs, O`Hearn, Pierre Pilote, Power, James Robertson, Don Simmons, Taylor, Skip Teal, Toyota, Bill Young

Toronto Marlboros Line-up:
Earl Balfour, Bob Cooper, John Henderson, Ron Hurst, Gus Karrys, Don Lockhart, John Lumley, Chuck Lumsden, Parker MacDonald, Bill MacFarland, Wally Maxwell, Eric Nesterenko, Don Peart, Danny Poland, Ron Stewart, Dan Windley
PR, taped cover
$8.00 Cdn
Pub 5099
Dec. 10, 1947
Toronto Marlboros
vs
Toronto St. Michaels
OHA Program


---


Dec. 10, 1947
Oshawa Generals
vs
St. Michaels College Majors
OHA Program


Jimmy Thomson
Game 1

Toronto Marlboros Line-up:
Hugh Bolton, George Clarke, Billy Ford, Doug French. Bob Hassard, Frank Kent, Knowles, Howie Lee, George McLagan, Jim Pernfuss, Porter, Jack Scruton, Cantley Speers, Ray Timgren

Toronto Young Rangers Line-up:
Don Ashbee, Don Biddle, Doug Chapman, D. Collins, Howie Cox, Croft, Jack Dorney, Doug Dyson, Hawkrigge, Bill Ringer, Shopshire, Reg Spragge, Red Stephen, Don Windley


---


Game 2

Oshawa Generals Line-up:
Alex Air, Chuck Blair, Dusty Blair, Ward Brandow, Dick Gamble, Jack Heggie, Ross Lowe, Mayer, Tim O`Connor, Raymond Oleksiuk, Pete Piquette, Eric Pogue, George Scholes, Gerry Scott, Frank Sullivan

Toronto St. Michael's College Line-up:
Ray Barry, Wally Clune, Joe DeCourcy, Bill Dunn, J. Fitzhenry, Gord Hannigan, Higgins, Tim Horton, Brian McAlister, Bill McNamara, Don Oberholtzer, Joe Primeau, Shea, Pete Whelan
VG
$35.00 Cdn
Pub 5103
Feb. 21, 1960
St. Catharines Tee Pees
vs
Toronto St. Michaels
OHA Program


---


Feb. 21, 1960
Peterborough T-P-T Petes
vs
Toronto Marlboros
OHA Program


Carl Brewer
Game 1

St. Catharines Tee Pees Line-up:
Pete Berge, John Brenneman, Larry Burns, Roger Crozier, Ray Cullen, Ben Greco, Don Grosso, Vic Hadfield, Murray Hall, Duke Harris, Bill Ives, Carlo Longarini, Bob Maki, Chico Maki, Terry McGuire, Ridle, Doug Robinson, Bill Speer, Pat Stapleton

Toronto St. Michael`s Majors Line-up:
Arnie Brown, Dave Chambers, Gerry Cheevers, Jack Cole, Michael Cyr, Bob Davidson, Bruce Draper, Dave Draper, Dave Dryden, Jim Fowler, Paul Jackson, Larry Keenan, Dave Keon, Les Kozak, Duncan MacDonald, Terry O'Malley, George Olah, Gene Rebellato


---


Game 2

Peterborough T-P-T Petes Line-up:
Wayne Boddy, Wayne Connelly, Fred Dart, Dick Dawson, George Holmes, Ray Kanerva, Claude Larose, Hugh McGonigal, Gary Mork, Reginald Mulholland, Jean-Yves Picard, Barclay Plager, Jerry Randall, Bobby Rivard, Jim Roberts, Doug Senior, Harvey Turnbull

Toronto Marlboros Line-up:
Gaston Brassard, Cannon, Brian Conacher, Roger Cote, Don Curry, Rick Hay, Brent Hughes, Gary Jarrett, Jack Martin, Howie Menard, Ross Morrison, Stan Osborne, Jim Pappin, Bob Perani, Bob Sheffield, George Standing, Tom Stewart, Bill White, Jim Wilcox
GD, folded cover
$35.00 Cdn
Last Updated: April 4, 2018

---