NASL Soccer Media Guides
North American Soccer League Guides
We sell 1979 & 1980 NASL - North American Soccer League Team Media Guides
as well as 1980s Official North American Soccer League Media Guides.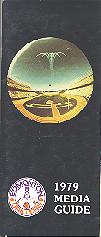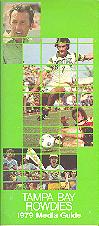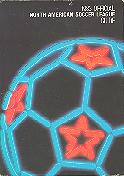 Prices subject to change without notice according to market conditions.
Copy the whole line (code & description) for each book that you are interested in and paste them directly into an email,
please include your address and we will confirm books are still available and work out the P+H.
Postage & Handling is extra. Canadian residents add applicable GST/HST.
Prices are listed in Canadian funds - please inquire as to the current exchange for prices in US funds.
NASL - NORTH AMERICAN SOCCER LEAGUE TEAM MEDIA GUIDES

1979 NASL - North American Soccer League Team Media Guides

Pub 6253

1979
Edmonton Drillers
NASL Media Guide


Team Logo
GD-VG
$8.00
Pub 6254

1979
Memphis Rogues
NASL Media Guide


Tony Field / Team Logo
VG
$10.00
Pub 6255

1979
New England Tea Men
NASL Media Guide


Soccer Player Drawing
VG
$10.00
Pub 6256

1979
New York Cosmos
NASL Media Guide


Team Logo
VG
$10.00
Pub 6257

1979
San Jose Earthquakes
NASL Media Guide


Mike Hewitt
GD
$7.00
Pub 6258

1979
Seattle Sounders
NASL Media Guide


Team Fan
GD-VG
$8.00
Pub 6259

1979
Tampa Bay Rowdies
NASL Media Guide


Fans / Steve Wegerle
GD
$7.00
Pub 6260

1979
Toronto Blizzard
NASL Media Guide


Drawings of Soccer Players
GD, creased cover
$7.00
Pub 6261

1979
Vancouver Whitecaps
NASL Media Guide


Team Logo
FR, creased covers
$5.00

1980s NASL - North American Soccer League Team Media Guides

Pub 6262

1980
Edmonton Drillers
NASL Pre-Season Guide


Dallas Tornados vs Edmonton Drillers
GD-VG
$8.00
Pub 6263

1980
Memphis Rogues
NASL Media Guide


Drawing of Paul Child / John Faulkner
VG
$10.00
Pub 6264

1980
New York Cosmos
NASL Media Guide


Team Logo
GD-VG
$8.00
Pub 6265

1980
Portland Timbers
NASL Media Guide


Soccer Ball
VG
$10.00
Pub 6266

1980
San Jose Earthquakes
NASL Media Guide


Team Logo
VG
$10.00
Pub 6267

1980
Seattle Sounders
NASL Media Guide


Action Photos
GD-VG
$8.00
Pub 6268

1980
Tampa Bay Rowdies
NASL Media Guide


Photo Collage
VG
$10.00
Pub 6269

1980
Toronto Blizzard
NASL Media Guide


Team Logo
VG
$10.00
Pub 6270

1980
Washington Diplomats
NASL Media Guide


Drawing of a Soccer Player
VG
$10.00

OFFICIAL NORTH AMERICAN SOCCER LEAGUE MEDIA GUIDES

Pub 6249

1981 Official
NASL Media Guide


League Logo
GD
$10.00
Last Updated: March 19, 2019

---