1983-84 Esso Hockey Cards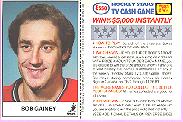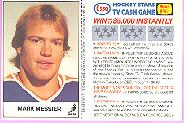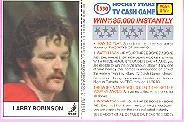 We sell 1983-84 Esso hockey singles for your incomplete hockey card sets.
Cards are listed in alphabetical order along with the player`s team.
We scan any cards you want to see before ordering, just email us.
Postage & Handling is extra. Canadian residents add applicable GST/HST.
Prices are listed in Canadian funds - please inquire as to the current exchange for prices in US funds.
Prices subject to change without notice according to market conditions.
1983-84 ESSO HOCKEY CARDS

3" x 4" oversize *denotes scratched game squares
Year & Brand
Card #
Player
Team
Condition
Price Per Card
83-84 Esso Hky
Glenn Anderson
Edmonton Oilers
VG scratched*
.30 Cdn
83-84 Esso Hky
John Anderson
Toronto Maple Leafs
VG++
.50 Cdn
83-84 Esso Hky
Dave Babych
Winnipeg Jets
VG-EX scratched*
.25 Cdn
83-84 Esso Hky
Dave Babych
Winnipeg Jets
VG scratched*
.20 Cdn
83-84 Esso Hky
Paul Coffey
Edmonton Oilers
VG scratched*
$1.25 Cdn
83-84 Esso Hky
Paul Coffey
Edmonton Oilers
GD scratched*
$1.00 Cdn
83-84 Esso Hky
Bill Derlago
Toronto Maple Leafs
VG-EX
.60 Cdn
83-84 Esso Hky
Bill Derlago
Toronto Maple Leafs
VG scratched*
.20 Cdn
83-84 Esso Hky

Bob Gainey
Montreal Canadiens
VG-EX
$1.00 Cdn
83-84 Esso Hky
Bob Gainey
Montreal Canadiens
VG
.75 Cdn
83-84 Esso Hky
Bob Gainey
Montreal Canadiens
VG scratched*
.50 Cdn
83-84 Esso Hky
Michel Goulet
Quebec Nordiques
VG
.75 Cdn
83-84 Esso Hky
Michel Goulet
Quebec Nordiques
VG scratched*
.30 Cdn
83-84 Esso Hky
Dale Hunter
Quebec Nordiques
VG scratched*
.30 Cdn
83-84 Esso Hky
Morris Lukowich
Winnipeg Jets
VG
.50 Cdn
83-84 Esso Hky
Lanny McDonald
Calgary Flames
GD-VG
.75 Cdn
83-84 Esso Hky

Mark Messier
Edmonton Oilers
NM
$5.00 Cdn
83-84 Esso Hky
Mark Messier
Edmonton Oilers
EX
$4.00 Cdn
83-84 Esso Hky
Mark Messier
Edmonton Oilers
VG-EX
$3.00 Cdn
83-84 Esso Hky
Mark Messier
Edmonton Oilers
VG
$2.00 Cdn
83-84 Esso Hky
Paul Reinhart
Calgary Flames
VG
.30 Cdn
83-84 Esso Hky

Larry Robinson
Montreal Canadiens
EX
$1.50 Cdn
83-84 Esso Hky
Larry Robinson
Montreal Canadiens
VG
.50 Cdn
83-84 Esso Hky
Harold Snepsts
Vancouver Canucks
NM
$1.00 Cdn
83-84 Esso Hky
Harold Snepsts
Vancouver Canucks
VG
.50 Cdn
83-84 Esso Hky
Mario Tremblay
Montreal Canadiens
VG
.40 Cdn
83-84 Esso Hky
Rick Vaive
Toronto Maple Leafs
VG
.50 Cdn
Last Updated: Jan. 1, 2018
---