2012 EXTREME CFL CARDS
2012 Extreme 100 Years of Grey Cup History Card Set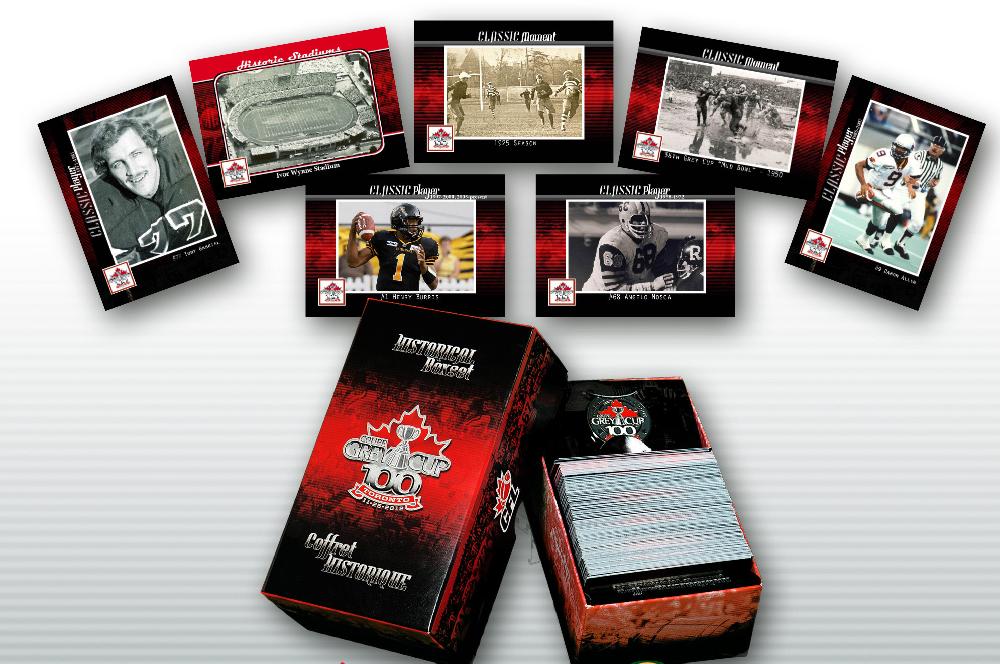 ---
2012 Extreme CFL Grey Cup Historical card set Now Available!
There are 10,000 Extreme CFL 100 Years of Grey Cup sets made.
Each factory sealed box contains 1 guaranteed full set of 200 cards,
from 1909-2012 and celebrates 100 years of Grey Cup memories.
and the official 2012 Grey Cup Tossing Coin

$69.95 Cdn box set
The set includes:
Official 100th Grey Cup Tossing Coin
Classic Players - Past and Present
Classic Moments - Including the Mud, Fog, Ice and Rain Bowls
Classic Coaches
Pieces of History - Including Tickets, Programs and the Grey Cup
Historic Teams
Historic Stadiums
A Canadian Football Hall of Fame Admission Card
QR Codes for exclusive video and image content
Postage & Handling is extra. Canadian residents add applicable GST/HST.
Prices are listed in Canadian funds - please inquire as to the current exchange for prices in US funds.

Click for Press Release
2012 EXTREME CFL GREY CUP HISTORICAL CARD SET CHECKLIST

AMERICAN TEAMS

CLASSIC BUILDER

▢ Baltimore Stallions
▢ Earl Grey
▢ Birmingham Barracudas
▢ John Candy
▢ Las Vegas Posse
▢ CFLPA
▢ Memphis Mad Dogs
▢ Tom Pate
▢ Sacramento Gold Miners

CLASSIC MOMENT

▢ San Antonio Texans
▢ 1925 Season
▢ Shreveport Pirates
▢ 2nd Grey Cup - 1910

CFL TEAMS

▢ 4th Grey Cup - 1912
▢ BC Lions
▢ 36th Grey Cup - 1948
▢ Calgary Stampeders
▢ 38th Grey Cup - 1950
▢ Edmonton Eskimos
▢ 40th Grey Cup - 1952
▢ Hamilton Tiger Cats
▢ 44th Grey Cup - 1956
▢ Montreal Alouettes
▢ 45th Gtey Cup - 1957
▢ Ottawa Renegades
▢ 46th Grey Cup - 1958
▢ Ottawa Rough Riders
▢ 50th Grey Cup - "Fog Bowl" 1962
▢ Saskatchewan Roughriders
▢ 50th Grey Cup - "Kick Off" 1962
▢ Toronto Argonauts
▢ 53rd Grey Cup - "Wind Bowl" 1965
▢ Winnipeg Blue Bombers
▢ 55th Grey Cup - 1967

CLASSIC PLAYERS

▢ 56th Grey Cup - 1968
▢ A.H. "Cap" Fear
▢ 57th Grey Cup - 1969
▢ Andrew Harris
▢ 57th Grey Cup = "Kick Off" 1969
▢ Andy Fantuz
▢ 58th Grey Cup - 1970
▢ Angelo Mosca
▢ 58th Grey Cup - "Coldest 1970 Game"
▢ Anthony Calvillo
▢ 59th Grey Cup - 1971
▢ Arland Bruce III
▢ 60th Grey Cup - 1972
▢ Ben Cahoon
▢ 61st Grey Cup - 1973
▢ Bill Baker
▢ 62nd Grey Cup - 1974
▢ Brent Johnson
▢ 64th Grey Cup - 1976
▢ Chad Owens
▢ 65th Grey Cup - "Ice Bowl" 1977
▢ Chris Getzlaf
▢ 67th Grey Cup - 1979
▢ Chris Williams
▢ 70th Grey Cup - "Rain Bowl" 1982
▢ Chuck Ealey
▢ 71st Grey Cup - 1983
▢ Condredge Holloway
▢ 72nd Grey Cup - 1984
▢ Damon Allen
▢ 74th Grey Cup - 1986
▢ Danny Bass
▢ 77th Grey Cup - 1989
▢ Danny McManus
▢ 78th Grey Cup - 1990
▢ Darian Durant
▢ 79th Grey Cup - 1991
▢ Darren Flutie
▢ 81st Grey Cup - 1993
▢ Dave Cutler
▢ 82nd Grey Cup - 1994
▢ Dick Aldridge
▢ 84th Grey Cup - "Snow Bowl" 1996
▢ Dickie Harris
▢ 86th Grey Cup - 1998
▢ Dieter Brock
▢ 88th Grey Cup - 2000
▢ Doug Brown
▢ 99th Grey Cup - 2011
▢ Earl Winfield
▢ Johnny Counts & Geno DeNobile
▢ Frank McGill
▢ RCMP
▢ Garney Henly
▢ Schenley Award - 1969
▢ George Reed
▢ Schenley Award - 1970
▢ Geroy Simon

HISTORIC STADIUMS

▢ Hal Paterson
▢ CNE Stadium
▢ Henry Burris
▢ Frank Clair / Lansdowne Park
▢ Henry "Gizmo" Williams
▢ Varsity Stadium
▢ Hugh Campbell
▢ Winnipeg / Canad Inns Stadium
▢ J.G. "Jake" Gaudaur
▢ Olympic Stadium
▢ Jackie Parker
▢ Empire Stadium
▢ Jamel Richardson
▢ Mosaic Stadium at Taylor Field
▢ Jeremy O`Day
▢ Ivor Wynne Stadium
▢ Jesse "Sonny" Wade
▢ Commonwealth Stadium
▢ Joe Kapp
▢ McMahon Stadium
▢ Joe Zuger
▢ Rosedale Field
▢ John Barrow

HISTORIC TEAMS

▢ John Helton
▢ Sarnia Imperial - 1905
▢ Jovon Johnson
▢ University of Toronto - 1909
▢ Ken Ploen
▢ U of T Varsity Blues - 1909
▢ Kevin Glenn
▢ Hamilton Alerts - 1912
▢ Khari Jones
▢ Senior Argonauts - 1914
▢ Korey Banks
▢ Queen`s University - 1924
▢ Lionel P. Conacher
▢ Hamilton Tigers - 1932
▢ Lui Passaglia
▢ Toronto Argonauts - 1933
▢ Markeith Knowlton
▢ Toronto Argonauts - 1937
▢ Marwan Hage
▢ Ottawa Rough Riders - 1940
▢ Michael "Pinball" Clemons
▢ Toronto RCAF Hurricanes - 1942
▢ Mike O`Shea
▢ St Hyacinthe-Donnacona Navy - 1944
▢ Mike Pringle
▢ Calgary Stampeders - 1948
▢ Milton "Milt" Stegall
▢ Toronto Argonaut - 1950
▢ Nik Lewis
▢ Ottawa Rough Rider - 1951
▢ Norman "Normie" Kwong
▢ BC Lions - 1964
▢ Paul McCallum
▢ Edmonton Eskimos - 1980
▢ Red Storey

PIECES OF HISTORY

▢ Ricky Ray
▢ 1st Grey Cup Program
▢ Rocky DiPietro
▢ 9th Grey Cup Program
▢ Ron Lancaster
▢ 13th Grey Cup Program
▢ Russ Jackson
▢ 17th Grey Cup Program
▢ Scott Flory
▢ 24th Grey Cup Program
▢ Terry Evanshen
▢ 30th Grey Cup Program
▢ Terry Vaughn
▢ 38th Grey Cup Program
▢ Tom Clements
▢ 41st Grey Cup Program
▢ Tom Wilkinson
▢ 44th Grey Cup Program
▢ Tony Gabriel
▢ 48th Grey Cup Program
▢ Tracy Ham
▢ 63rd Grey Cup Program
▢ Travis Lulay
▢ 68th Grey Cup Program
▢ Victor Stevenson
▢ 73rd Grey Cup Program
▢ Weston Dressler
▢ 75th Grey Cup Program
▢ Willie Pless
▢ 76th Grey Cup Program

CLASSIC COACH

▢ 80th Grey Cup Program
▢ Cal Murphy
▢ 83rd Grey Cup Program
▢ Don Matthews
▢ 86th Grey Cup Program
▢ Frank Clair
▢ 93rd Grey Cup Program
▢ Harry "Bud" Grant
▢ 95th Grey Cup Program
▢ Hugh Campbell
▢ 98th Grey Cup Program
▢ Jim Daley
▢ Grey Cup First Base - Trophy
▢ Marv Levy
▢ Grey Cup Second Base - Trophy
▢ Ralph Sazio
▢ Grey Cup Third Base - Trophy
▢ Ron Lancaster
▢ Wally Buono
Last Updated: Oct. 15, 2012