Attention Edmonton Oilers Fans
JF Sports has made a beautiful 2? x 1? Stanley Cup Champions Banner pin set featuring the Edmonton Oilers.
Each pin is made from stamped brass and filled with synthetic enamel for the finest quality finish.
There is one pin for each year that the Edmonton Oilers won NHL Divisions, NHL Conferences, NHL League Champions, NHL President's Trophies and the NHL Stanley Cup.
Twenty-three orange, blue and white Edmonton Oilers banner pins make up the set.
This set of pins when framed would make an excellent gift for any Edmonton Oilers fan or hockey pin collector.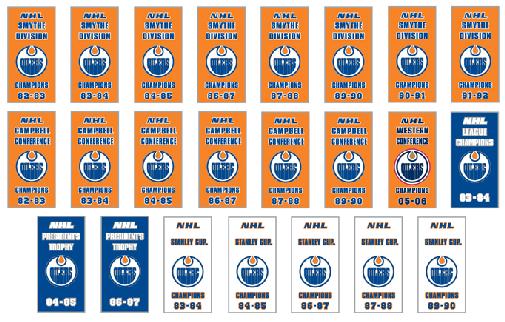 * NHL Smythe Division Champions 82-83
* NHL Campbell Conference Champions 82-83
* NHL Smythe Division Champions 83-84
* NHL Campbell Conference Champions 83-84
* NHL League Champions 83-84
* NHL Stanley Cup Champions 83-84
* NHL Smythe Division Champions 84-85
* NHL Campbell Conference Champions 84-85
* NHL President's Trophy Champions 84-85
* NHL Stanley Cup Champions 84-85
* NHL Smythe Division Champions 86-87
* NHL Campbell Conference Champions 86-87
* NHL President's Trophy Champions 86-87
* NHL Stanley Cup Champions 86-87
* NHL Smythe Division Champions 87-88
* NHL Campbell Conference Champions 87-88
* NHL Stanley Cup Champions 87-88
* NHL Smythe Division Champions 89-90
* NHL Campbell Conference Champions 89-90
* NHL Stanley Cup Champions 89-90
* NHL Smythe Division Champions 90-91
* NHL Smythe Division Champions 91-92
* NHL Western Conference Champions 05-06
$195.00 Cdn set of 23 pins
P+H (& GST/HST if applicable) is extra
Click here for more Stanley Cup pins
Judy
www.abdcards.com
Sports Cards & Collectibles