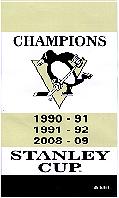 2009 Stanley Cup Champions Commemorative 3×5 Banner
The new 3×5 Pittsburgh Penguins Stanley Cup Comemmorative Banner is now in stock.
All three years are on the commemorative banner.
1990-91  * 1991-92  *  2008-09
It is made of 100% Polyester and has 2 metal grommets at the top of the banner.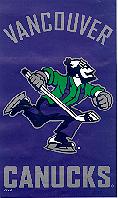 The Vancouver Canucks alternate Johnny Canuck
3×5 vertical banner & 5×3 horizontal flag
& 12×18 mini flag are now in stock as well.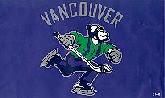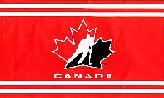 There is a new red 5×3 Team Canada Hockey horizontal flag available with horizontal white stripes top & bottom.
There are 2 metal grommet holes on the left side of the flag.
It is made of 100% Polyester.
We have these 3×5 vertical banners and 5×3 horizontal flags available on our website.
Click here for more licensed 3×5 NHL Banners & Flags, & other 3×5 Stanley Cup Champions Banners.
These are great to take to live games, hang in your rec room as well as gift giving to the Sports Enthusiast you know.
Judy
http://www.abdcards.com/souvenirs/hkyflags.htm
Check them out here.