1957 Parkhurst Henri Richard #4 PSA NM-MT 8.
Auction Name: 2008 October Signature Sports Collectibles Auction #710
Bidding Ends : Oct 17, 2008 at 10:00 PM CT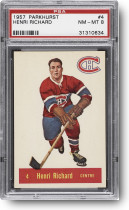 Known as "The Pocket Rocket," due to his diminutive size and his fraternal relation to the great Maurice, Henri joins his brother in the Hall of Fame, and joins just twenty others at the top of the SGC population charts. Not a single example has ever surpassed this superb offering.
Check it out – click the link below to see larger image or to bid if interested.
http://sports.ha.com/common/view_item.php?Sale_No=710&Lot_No=19351