There is a  new CFL Card Reference Price Guide available.
"Collecting Canadian Football"   Volume 1 – 1st Edition 2010
Sports Cards & Photographs – League Wide Issues
Softcover – B&W Edition by Andy Malycky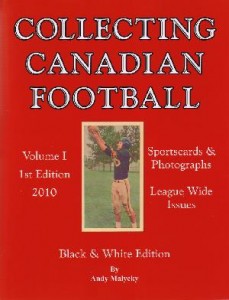 There are a limited amount of the books printed.
————————————————————————————————-
Catalogue & Price Guide
Items ranging from 1905 – 2009
over 5,000 variants listed
rare promotional items and packaging material
rookies, quarterbacks, short prints & extra prints identified
includes trading cards, inserts, postcards, posters, photographs, stickers, printed pictures, plastic cards, calendars, plastic caps, bottle caps, etc…
pricing in up to three condition grades
all items rated by availability
over 1,100 black & white images
Full item index by player
Full player index by college
————————————————————————————————-
Talking to the author – he compiled the prices based on a computer based formula, by giving each player a rating value and then letting the computer generate pricing.
The prices in the book do not necessarily reflect my pricing for cards, it is just a reference guide. He explains it in the front of the book how he developed his pricing.
————————————————————————————————-
I think the book is an excellent reference book, the front & back pictures of the sample cards are large, historical write-ups for each issue, card size & description details, RC, QB, SP, XP, team, 3 condition categories, wrappers & display boxes are shown for the cards, alphabetical player checklist in the back for league wide issues, players also listed alphabetically by College in the back.
————————————————————————————————-
A 278 page (8.5″ X 11″) B&W version, paperback, over 1,100 images
1 page – acknowledgements
5 pages – table of contents – chronological year, brand, series or inserts, reference page
6 pages – introduction, grading, pricing, history …
237 pages – cards listed in chronological order
22 pages – alphabetical player checklist – year, brand, card #, RC, reference page
6 pages – college listing players alphabetically
————————————————————————————————-
The book does NOT include any Team issued card sets – that is supposed to be listed in volume 2, he is still working on compiling information and may not be done for another year.
————————————————————————————————-
"Collecting Canadian Football"   Volume 1 – 1st Edition 2010
Sports Cards & Photographs – League Wide Issues
Softcover – B&W Edition by Andy Malycky
Cost is $30.00 Cdn plus P+H (& tax if applicable) Weight @ 1 kg (2 lb)
————————————————————————————————-
Click here to see a sample page
Judy
info [at]  abdcards  [dot]  com