2008 Detroit Red Wings 3×5 Stanley Cup Champions Banner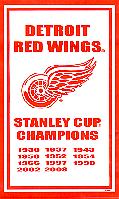 The Detroit Red Wings Commemorative Stanley Cup banner is made of 100% polyester banner with 2 metal grommet holes at the top. The size of the banner  is 3 feet by 5 feet.
The years that the Detroit Red Wings won the Stanley Cup are listed in chronological order at the bottom of the banner, below the logo. The banner has red & white borders.
1936     1937     1943
1950     1952     1954
1955     1997     1998
2002     2008
These 3×5  Stanley Cup banners are available at Ab D Cards.
Boston Bruins
Calgary Flames
Carolina Hurricanes
Chicago Black Hawks
Colorado Avalanche
Dallas Stars
Detroit Red Wings
Edmonton Oilers
Montreal Canadiens
New Jersey Devils
New York Islanders
New York Rangers
Philadelphia Flyers
Pittsburgh Penguins
Tampa Bay Lightning
Toronto Maple Leafs
Judy
NHL Team Banners, NHL Stanley Cup Banners, NHL Team Flags
---