1957 Topps Glenn Hall #20 SGC 88 NM/MT 8
Auction Name: 2008 October Signature Sports Collectibles Auction #710
Bidding Ends : Oct 17, 2008 at 10:00 PM CT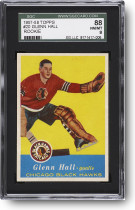 1957 Topps Glenn Hall #20 SGC 88 NM/MT 8.
The three-time winner of the Vezina Trophy made his cardboard debut upon the number twenty card from the 1957-58 Topps set, which we present here in stunning NM/MT condition. Vibrant colors, excellent centering and an utter lack of wear conspire to place this example at the top of the population chart, one of just four to hold SGC's highest appointed grade.
Check it out – click the link below to see larger image or to bid if interested.
http://sports.ha.com/common/view_item.php?Sale_No=710&Lot_No=19352