Attention NFL Super Bowl Fans!
Beautiful 2″ x 1″ pins featuring Super Bowl logo, game date, winning team logo and colors.
Each pin is made from stamped brass and filled with synthetic enamel for the finest quality finish. They are either nickel plated or gold plated.
There is one pin for each year, making this series extremely collectable.
| | | | |
| --- | --- | --- | --- |
| Green Bay Packers | First World Champonship Game AFL vs NFL Champions | Los Angeles | 01.15.67 |
| Green Bay Packers | Super Bowl II Champions | Miami | 01.14.68 |
| New York Jets | Super Bowl III Champions | Miami | 01.12.69 |
| Kansas City Chiefs | Super Bowl IV Champions | New Orleans | 01.11.70 |
| Indianapolis Colts | Super Bowl V Champions | Miami | 01.17.71 |
| Dallas Cowboys | Super Bowl VI Champions | New Orleans | 01.16.72 |
| Miami Dolphins | Super Bowl VII Champions | Los Angeles | 01.14.73 |
| Miami Dolphins | Super Bowl VIII Champions | Houston | 01.13.74 |
| Pittsburgh Steelers | Super Bowl IX Champions | New Orleans | 01.12.75 |
| Pittsburgh Steelers | Super Bowl X Champions | Miami | 01.18.76 |
| Oakland Raiders | Super Bowl XI Champions | Pasadena | 01.09.77 |
| Dallas Cowboys | Super Bowl XII Champions | New Orleans | 01.15.78 |
| Pittsburgh Steelers | Super Bowl XIII Champions | Miami | 01.21.79 |
| Pittsburgh Steelers | Super Bowl XIV Champions | Pasadena | 01.20.80 |
| Oakland Raiders | Super Bowl XV Champions | New Orleans | 01.25.81 |
| San Francisco 49ers | Super Bowl XVI Champions | Pontiac | 01.24.82 |
| Washington Redskins | Super Bowl XVII Champions | Pasadena | 01.30.83 |
| Los Angeles Raiders | Super Bowl XVIII Champions | Tampa | 01.22.84 |
| San Francisco 49ers | Super Bowl XIX Champions | Stanford | 01.20.85 |
| Chicago Bears | Super Bowl XX Champions | New Orleans | 01.26.86 |
| New York Giants | Super Bowl XXI Champions | Pasadena | 01.25.87 |
| Washington Redskins | Super Bowl XXII Champions | San Diego | 01.31.88 |
| San Francisco 49ers | Super Bowl XXIII Champions | Miami | 01.22.89 |
| San Francisco 49ers | Super Bowl XXIV Champions | New Orleans | 01.28.90 |
| New York Giants | Super Bowl XXV Champions | Tampa | 01.27.91 |
| Washington Redskins | Super Bowl XXVI Champions | Minneapolis | 01.26.92 |
| Dallas Cowboys | Super Bowl XXVII Champions | Pasadena | 01.31.93 |
| Dallas Cowboys | Super Bowl XXVIII Champions | Atlanta | 01.30.94 |
| San Francisco 49ers | Super Bowl XXIX Champions | Miami | 01.29.95 |
| Dallas Cowboys | Super Bowl XXX Champions | Arizona | 01.28.96 |
| Green Bay Packers | Super Bowl XXXI Champions | New Orleans | 01.26.97 |
| Denver Broncos | Super Bowl XXXII Champions | San Diego | 01.25.98 |
| Denver Broncos | Super Bowl XXXIII Champions | Miami | 01.31.99 |
| St Louis Rams | Super Bowl XXXIV Champions | Atlanta | 01.30.00 |
| Baltimore Ravens | Super Bowl XXXV Champions | Tampa | 01.28.01 |
| New England Patriots | Super Bowl XXXVI Champions | New Orleans | 02.03.02 |
| Tampa Bay Buccaneers | Super Bowl XXXVII Champions | San Diego | 01.26.03 |
| New England Patriots | Super Bowl XXXVIII Champions | Houston | 02.01.04 |
| New England Patriots | Super Bowl XXXIX Champions | Jacksonville | 02.06.05 |
| Pittsburgh Steelers | Super Bowl XL Champions | Detroit | 02.08.06 |
| Indianapolis Colts | Super Bowl XLI Champions | South Florida | 02.04.07 |
$10.00 Cdn each
$350.00 Cdn set of 41 banner pins
P+H (& GST/HST if applicable) is extra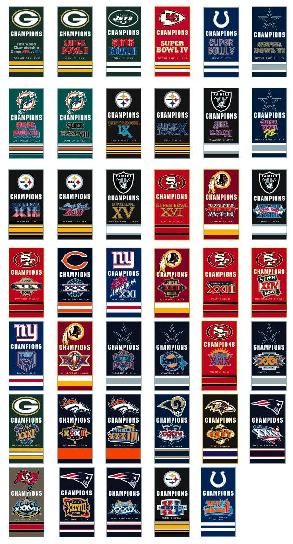 Click here for more Super Bowl pins
Judy
www.abdcards.com
Sports Cards & Collectibles