4×6 1980`s AHL Hockey Photos
We have a collection of more than 600 one of a kind 4×6 AHL Hockey Photos from the 1980`s for sale.
We figure they are a photographers proofs from training camps or team practices, taken over a few years.
The majority of these photos were posed on the ice, some of the lighting is dark.
The photos had the player`s name written on the back of the photos in ink.
We listed the years that the player played for the team as we do not know the exact year of the photos.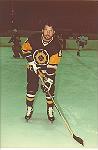 We have 4×6 AHL hockey photos from the following teams.
| | |
| --- | --- |
| Adirondack Red Wings | Baltimore Skipjacks |
| Binghamtom Whalers | Erie Blades |
| Fredericton Express | Hershey Bears |
| Maine Mariners | Moncton Alpines |
| Moncton Golden Flames | New Brunswick Hawks |
| New Haven Nighthawks | Nova Scotia Oilers |
| Nova Scotia Voyageurs | Rochester Americans |
| St Catharines Saints | Sherbrooke Canadiens |
| Sherbrooke Jets | Springfield Indians |
CLICK HERE! for the listing of the 4×6 1980`s AHL Hockey Photos
Judy
www.abdcards.com
Sports Cards & Collectibles