Ab D. Cards just acquired over 1300 old collectible hockey pucks from an assortment of leagues. The ages of theses pucks are from @ 1960s to present. We are working as fast as possible to sort and price the various pucks and get them uploaded to the website.
Some of the hockey leagues that will be represented are
AHL – American Hockey League
AJHL – Alberta Junior Hockey League
BCJHL – British Columbia Junior Hockey League
CHL – Central Hockey League
IHL – International Hockey League
NHL – National Hockey League
OHA & OHL – Ontario Hockey Association & Ontario Hockey League
QMJHL – Quebec Major Junior Hockey League
SJHL – Saskatchewan Hockey League
WCHL & WHL – Western Canada Hockey League & Western Hockey League
American & Canadian Collegiate pucks
Tournament pucks
Many more pucks from across Canada & the US, some overseas
International Country pucks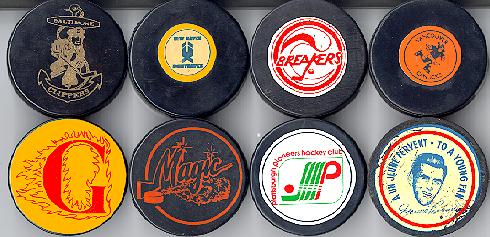 An assortment of hockey pucks from the large collection of older hockey pucks.
Watch for our pucks pages to be updated with new additions. http://www.abdcards.com/puck.htm
Judy
Sports Cards & Collectibles